In line with other London locations, The British Museum opens its doors again on 17th May for corporate hire and event screenings.
The Museum's Grade I listed public galleries are complemented with a suite of contemporary conference facilities, designed by Lord Foster, for daytime and evening events. And uniquely, during opening hours, clients & delegates also have access to the Museum's collection and special exhibitions for inspiration, relaxation and motivation.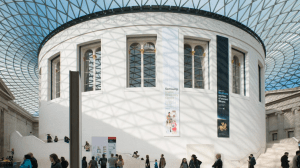 The British Museum offers two state-of-the-art, screening theatres seating 323 and 142 with adjacent foyers and breakout spaces, ideal for a wide range of events and conferences.
Backing up the excellent AV facilities, an experienced, dedicated team is available to assist organisers with every element of their event, from site visits, administration, technology options and pre-planning through to onsite management on the day. This team works with a host of accredited suppliers to make your event a success.
With all the unique spaces, the museum's team have set everything up in accordance with current government social distancing advice and are providing new services to ensure not only that guests have a positive experience here, but that clients feel confident in choosing The British Museum for future events.
A range of additional bespoke services are available to make events special:
Branded gifts and swag bags from our world-famous shop
Catering, from light refreshments to three-course meals, including our individual 'Bento Boxes' by Benugo
Manned cloakrooms
Exhibition tickets catalogues and tickets
HD recordings for on-demand viewing
Room dressing and lighting design
Tailor-made tours during the day or private after-hours tours of the Museum.
FILMING AS A LOCATION
As the most-visited tourist attraction in the country, The British Museum is an incredible and versatile location for filming opportunities.
Situated in the heart of Bloomsbury, its iconic spaces such as The Great Court and the Parthenon Galleries have been featured in numerous films, such as Night at the Museum: Secret of the Tomb, Wonder Woman, Justice League and Ammonite. TV productions include period drama Howard's End as well as series with a more contemporary setting such as popular Netflix productions The Crown and The Feed and BBC favourites McMafia, Gold Digger and Detectorists.
Apart from the more recognisable spaces and galleries, the museum also provides various back of house areas that offer an ideal variety of location backdrops, including study rooms, vintage library spaces, contemporary and Victorian period retail and office areas, basement corridors and grand staircases as well as modern conservation areas.
Broadcasting services include hybrid, live streaming and webcasting events including 'virtual delegates' for more details click here